Home
Welcome to the home page of West Hampstead Removals, the one stop shop for all your moving needs as you look to give yourself, your family or your employees something that can often feel as though it is impossible: the stress free move. It might sound impossible but it is something that we have offering our customers ever since we opened our doors as a little family business in Hampstead a decade ago. Since then we have gone on to offer our unique service to thousands of people and we are no longer limited to London. We now operate not only in the capital, but across the rest of the UK as well so wherever you are relocating to you only need to call us. We also help people who are looking to move home or office to Europe as well, so wherever you are heading you can call 020 8746 9660 safe in the knowledge that the same procedure and attitude which made our name is still available to you after all these years and despite the fact that we are now the leading UK removals company.

Full details on our services are available across this website but here is a rundown of the basics. Every job we undertake follows the same routine. We start with a free quote, but it isn't a case of just showing up and taking a wild guess. One of the major issues people have had with removals companies over the years has been the fact that their quotes often don't match the price that is ultimately paid. In fact, in many cases they bare almost no resemblance whatsoever. As a result, our quoters are professionally trained to measure and accurately calculate what you will need in terms of both vehicle space and manpower. Some properties mean that a large team isn't practical if you want value for money, so our team will take everything into account before they give you a number which covers exactly what you need, no more and no less. On top of that there are no obligations, no hidden fees and because we are so thorough we can confidently say that the number you are given is the number you pay.

While the pricing is important, it is on moving day itself that our service really sets itself apart from our competition. Take our vans for example. Many of our customers have commented on how much of a relief it is on moving day when the first thing they see is a pristine, modern van. We have invested heavily in our vehicles to ensure that you get this exact feeling as well. All of our vehicles, big or small are cleaned after every job. They are regularly serviced to ensure there are no mechanical failures while we are on the road whether it is across London or down to France. They are also all fitted with modern security systems to ensure that your possessions are in the safest possible place.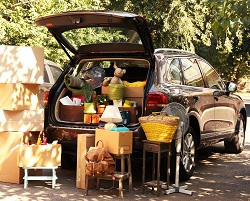 Our staff are just as well turned out. Efficient and professional they are the people that have consistently put us out on our own in terms of customer service for over a decade. Because of our strict our hiring and training regimes are, they understand what is expected of them, and that ultimately, on moving day you are the boss and they work for you, not us in that situation. It is a subtle difference, but it is all about trying to create an environment where we understand the pressures, stresses and strains that you are going through when you move home or office. You leave behind memories and put your possessions (which hold countless more) into the hands of strangers. Understanding that is what enables our teams to be so thorough, so precise and keep accidents to a minimum. It is an ethos which centers around respect, built on the adage that it isn't what you do it is how do you it, and nobody does it better than our team.

We also offer a wide range of optional additional services, designed to complete the stress free moving experience. Most people struggle to find any time between work, friends and family commitments so if you want a little bit of help we have ensured that you only need one company. As a result you only get one bill which when funds are stretched is an added bonus so whether you are looking to recoup your full deposit from your landlord and want a professional cleaning service or are downsizing or in a chain and require help with storage we have the people you need and all of them come with the same free quote as our basic moves. We also offer packing services, which can not only speed up the process of boxing everything, but will also cut down on damage and can even help you unpack if you want your house turning into a home quickly or you want your business up and running in the new offices in record time.

Whatever you are after, whether you just want a little bit of help for a 'man with a van' type of job or you are relocating to the other side of the continent you can do it with the security of a big company, but one which still has the feel of the family run business that opened its does ten short years ago. Why not put us to the test? You can call our dedicated and friendly customer services team today on 020 8746 9660 and get your first taste of what our team can do for you. All information is available either by phone or on this website but rest assured that whatever your project, West Hampstead Removals have got your covered.